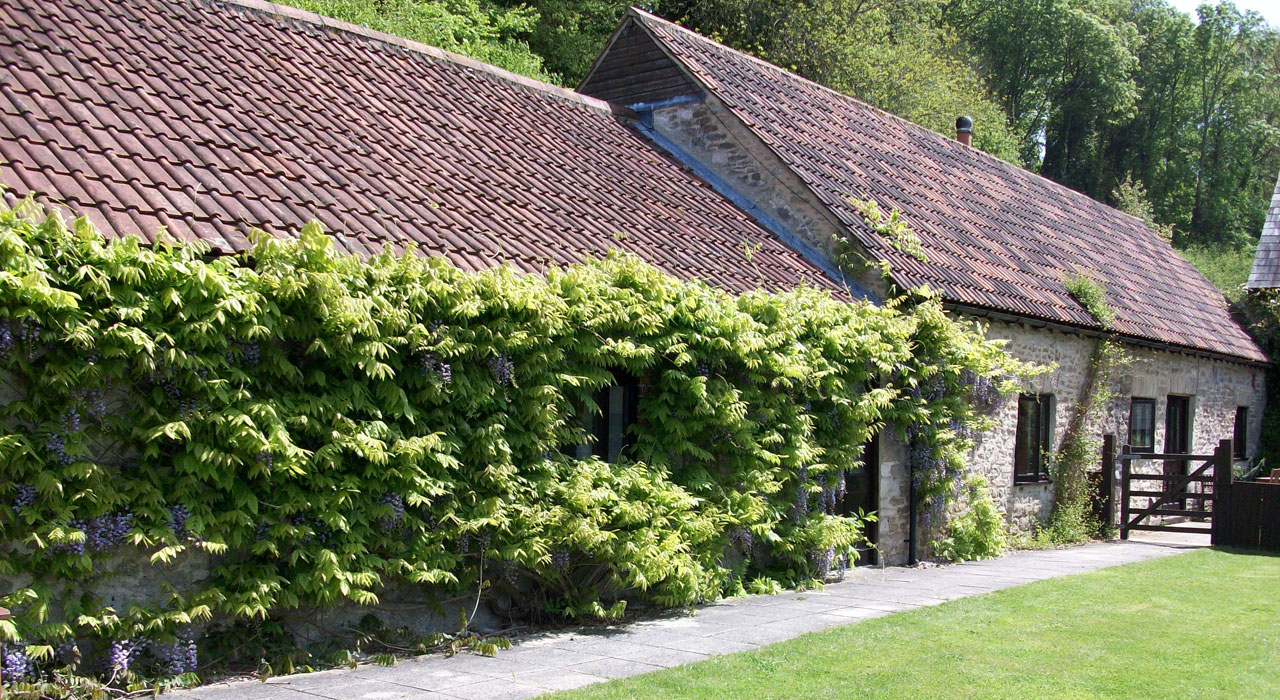 Spindle Cottage
Spindle Cottage is a spacious barn conversion with the original beams now forms a level 2 accessible cottage with a double room en suite and a twin room with a private bathroom on the ground floor and a twin room en suite upstairs. Both bathrooms on the ground floor are suitable for those less mobile or a wheelchair user . This cottage is ideal for a those needing accessible accommodation or families with children, extended families with three generations holidaying together or those wanting ground floor bedrooms.
Spindle Cottage also works well with Bride Cottage. They are adjoining and have a connecting hallway which allows them to be used as two separate cottages or as a large cottage for a bigger family or party of up to 10 people plus cots. There is enough seating and dining space, pots and pans in Spindle Cottage for 10 people.
Cottage details
This cottage has 2 entrances. The main door is opens onto the hallway which leads to the main spacious comfortable living room with its comfy sofas, an open fireplace, freeview flatscreen television, dvd player and garden doors onto the patio and the two bedrooms and bathrooms on the ground floor.
Spindle Cottage is level throughout the ground floor with no steps and has a category 2 accessibility grading. Both bathrooms on the ground floor are equipped for the less mobile guests. Special adaptations in both ground floor bathrooms include raised toilets, fixed handrails and drop down rails, lever taps and a wheeled chair or perching stool for the wet room. All the spacious rooms on the ground floor have wider doorways. The fenced garden is also level and has easy access from the living room.
For more information on what is available in Spindle Cottage to meet your accessibility needs please call.
Kitchen details
Each cottage has an electric double oven cooker, microwave, dishwasher, fridge/freezer, food processor, an excellent range of cooking equipment, crockery and glassware. And we try to make sure there are plenty of extra useful utensils you cannot think you will need until the moment you do need them. The separate utility room has a washing machine, tumble drier and ironing facilities. This open plan living room area has the kitchen separated from the dining area by a breakfast bar.
Bedrooms
There are two bedrooms, a double room, and a twin room and two bathrooms on the ground floor and a twin bedroom with its own bathroom on the first floor. The double room with a king size bed has an en suite shower wet room with a wheeled shower chair or a perching stool also available if needed. The twin room on the ground floor has an adjacent bathroom with a shower over the bath. Sheets, duvets with covers and pillows with cases are provided, as are extra duvets and pillows should you need them . We do provide an alarm clock in case you have to be up and about at a certain time but for those of you who have time to enjoy the peace and quiet it is very easy to oversleep here at Gorwell before you wake up to the beautiful countryside. The double room also has a flat screen tv for those who like to snuggle under the duvet to watch a good film or would prefer to watch something in the comfort of their own room.
A cot, highchair and a stair gate are also provided in the cottage but we do ask guests to provide their own cot bedding.
Heating
The cottage is centrally heated and has a log burner in the inglenook in the living room which is ideal for cosy evenings in the cooler weather. Wood is provided for this and along with the electricity and heating this is included in the rental rate. All the cottages have double glazing so ideal for all times of the year.
Other items in the cottage
The cottage has free wifi access.
Outside the cottage
The cottage has its own well kept south west facing fenced garden which is a perfect place to sit and enjoy a drink or an evening barbecue watching the sun set.
There is also parking for up to 3 cars next to the cottage with level access to the cottage. There are two play areas on the farm and a hard surface tennis court for guests use. The fenced outdoor play area has swings a slide, playhouse and slide for younger children.
The indoor play area has a games room with table football and a pool table and then the covered area has ride on toys for small children, table tennis and a small skittle alley for anyone to try their luck at this west country game.
We also have a hard surface tennis court which is available for all our guests to use. There are some racquets and balls provided but if you are of wimbledon standard …or even part way to that, and have your own racquet, please bring them along.
We are as keen as many of you are about our environment so please help us to care for it as you would at home and recycle as much as possible.We have compost bins for uncooked vegetables and collection boxes for glass paper tins etc.
Stocking up!
We have a small 'shop' on the farm where you can buy local produce when it is available. A small amount of frozen meals are kept from  Manna Kitchen  who are based in Dorchester and supply frozen ready meals should you be having such a lovely time that you have forgotten about your evening meal but if you wish to order your own choice then please place the order a day in advance if possible. We also have a range of fabulous meats available in our deep freeze either from Gorwell Farm where we rear lamb or from Sam's pigs, including sausages, burgers and pork steaks for quick meals and barbeques or venison and other game from Dorset Game Larder  We also stock a range of other locally produced items depending on the time of year.